Welcome to our Wine Club!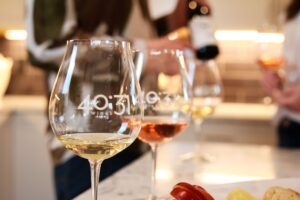 40:31 Wine Club Membership Benefits Include
20% Discount for Club 40 members; (12 bottles twice a year)
15% Discount for Club 31 members; (6 bottles twice a year)
Wine shipments are customizable to your preferences: all Whites & Rosés, all Pinot Noir or mixed selections
Club members enjoy a complimentary wine tasting or glass pour anywhere we pour wine
Complimentary tastings for up to four people
First access to newly released wines
Exclusive Wine Club pick-up parties
Discounts on upcoming events
Wine shipments are released twice a year in April and October
Our Wine Club Policies:
To purchase wine, you must be at least 21 years of age. Enrollment includes a one-year (two shipment) commitment. Wine shipments are completely customizable and provided each April and October. The credit card on file will be charged approximately one week prior to each shipment and a receipt will be emailed.
Your first wine shipment occurs upon completion of your membership registration. Wine club selections must include the agreed upon wine club quantity for all shipments. We will contact you to determine wine club shipment selections, pick-up or shipping delivery options and fulfillment order deadlines. Should a club shipment order not be fulfilled within the communicated fulfillment deadline, we will automatically fill and ship your order based upon your prior wine club order.
For local club members, wine shipment pick-up dates are communicated through our mailing list newsletter, Instagram, and Facebook. Wines will be held for 30 days, after which wine will be shipped at member's expense unless prior arrangements are made and weather permitting.
Shipping fees and applicable sales tax are additional charges to wine total. An adult signature (an individual at least 21 years of age) will be required for shipment delivery. 40:31 Wines reserves the right to put a ground shipment on hold due to extreme hot or cold weather. Overnight shipments must be approved by club member. Shipping costs are the club member's responsibility. If a shipment is returned to 40:31 Wines for any reason, all re-shipping costs will be at the member's expense.
A $50 early termination fee will be charged if cancellation occurs prior to the one-year (two shipment) commitment.
If you need assistance, please contact Shari@4031wines.com
Follow 40:31 Wines and Ten Peaks Vineyard on Instagram and Facebook.